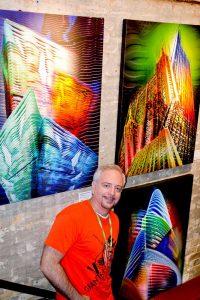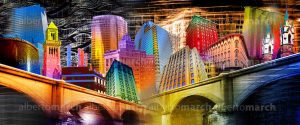 Alberto March is a photographer/graphic designer living and working in Barcelona, Spain. He was born in Venezuela and move to the United States, lived there for ten years and become an American citizen. He received his B.A., in Graphic Design in 1985 and his B.A. in Advertising and Marketing in 2000. At the age of 14, he studied Art and Music, which founded his artistic journey. In 1985 he collaborated in different projects with internationally famous artists such as Victor Valera, Alirio Palacios, and Luisa Richter, given him the opportunity to shape his roots as photographer, artist and graphic designer. He participated in group exhibitions from 1980 to 1990 in Venezuela, Argentina, Peru, Brazil, Colombia, and Central America.
His paintings were awarded two Tito Salas special recognition awards in 1982 and 1984. In 1985 The Museum of Contemporary art of La Rinconada and Galería de Arte Nacional, Caracas – Venezuela held black and white photographs called Portraits of my Inner, which later toured for two years through South American Contemporary Art Museums.
Recent exhibitions of 14-pieces titled "Giants of Chicago" at ArtPrize, Grand Rapids, Michigan, Consulate of Venezuela, UNAM University of Mexico, Harold Washington University in Chicago, CuCut and Paspartu Gallery, Barcelona, Spain and The Thompson Center, Chicago IL. The latest exhibition called Victoria was shown at the UNAM University of Mexico in Chicago (Sept 26-Oct 26, 2013) also in BCN at Casinet D'Hostafrancs during the INT month of Dance, and Giants of BCN was showcased at Cucut, Osbar and BY galleries, Barcelona 2014-2015. In 2012 was recognized by the Secretary of the State of Illinois as a Latin American Artist of the year by Jasey White. Chicago, IL.
From 1987 to 1995 Alberto March worked as an Art Director for prestigious advertising agencies in Spain and South America. In 1996 he founded GrafMarc, which started as a Venezuelan based Corporation offering design, marketing, and visual communication services. In 2002 He moved his company GrafMarc from Caracas, Venezuela to Miami Lakes, Florida due to the political situation and has full representation in Chicago, Illinois and now in Barcelona, Spain.