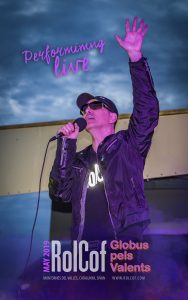 I am RolCof, a Native American Cherokee Indian and Irish singer,
songwriter and producer living in Barcelona Spain. Born in a
little village of Paw-Paw Michigan, my Mother relocated back to
Chicago where I attended Marie Curie Performing Arts School
and studied music theory, dance and music production. I was
greatly influenced by artists such as Boy George, George Michael,
Madonna and yes Dolly Parton as well.
I have worked with some of the greatest producers in the US and
Europe, such as Grammy Producer Joel Someillan, Award Winning
Producer Lenny Hamilton Jr, and current Producer Levi Wilcox,
Producers Marco and Kiko from Barcelona Hit-Makers Studio and
Producer DJ "Berdic" from Barcelona.
My music is about the experience of rhythms and lyrics to move
and influence you to Think, Provoke and React. Lyric's carved from
moments of life events that are woven into rhythms so that the
listener will experience through my music, a story of my life.
RolCof, sus raíces son la mezcla de cherokee e irlandés, compositor y
productor que ahora vive en Barcelona. Nacido en un pequeño pueblo
de Paw Paw Michigan. Sus padres se trasladaron a Chicago, donde
asistió a Marie Curie Performing Arts School y estudió teoría de la
música, danza y producción musical. Su carrera estuvo marcada por la
influencia de artistas como Boy George, George Michael, Madonna y
Dolly Parton, entre otros.
Ha trabajado con algunos de los mejores productores en los EE.UU. y
Europa, como el productor Joel Someillan, ganador de un Grammy,
productor Lenny Hamilton Jr, y el talentoso productor Levi Wilcox .
Actualmente ha trabajado sus más recientes producciones musicales
con Marco y Kiko, Barcelona Hitmakers Studio.
Su música se basa en la experiencia de sentir ritmos y letras. Las letras
de sus canciones son talladas en momentos de su experiencia de vida
y se entretejen con la música para que el oyente pueda experimentar
las historias con emociones musicales.